We invited AAHomecare President Tom Ryan to a B.S.-free interview, and he agreed. Here's what happened.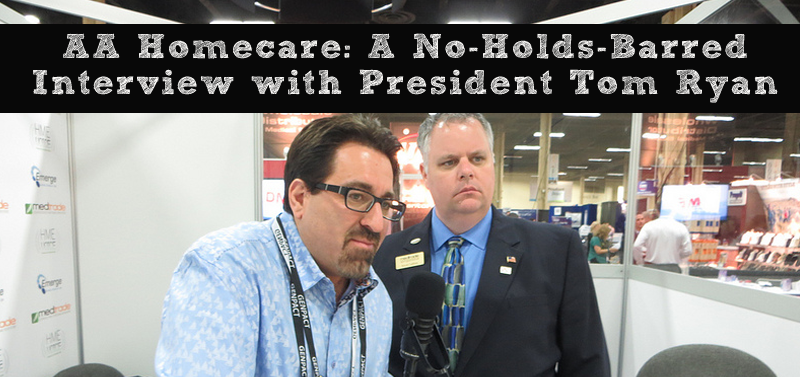 A funny thing often happens to people who move to Washington D.C. and become a part of the system: they start to speak in vague and give answers to questions that aren't really answers at all. For our latest edition of HME Voice, Kevin Gaffney and I invited the president of AA Homcare, Tom Ryan, for an interview. However, we wanted this interview to be a straight up, honest discussion devoid of all political-speak; hard facts only. Tom agreed (we even had a B.S. Meter just in case), and we ended up with a terrific show that covered a lot of different and important topics.
We started Tom off easy, asking him about the big obstacles he's tackled since starting the job in September of last year. The focus, Tom said, has been "to reconnect this D.C.-focused association to its constituents."
"When I first came in I said 'It's good that we're in D.C., and it's bad that we're in D.C.,'" Tom said. "The good part is that I've been out of D.C.; I'm a provider, and I get what it takes and know what it's like out there. We've got to make sure our members are getting a good feeling from us that we have some empathy."
Tom also said that when it comes to AAHomecare's goals and the industry as a whole, everyone must measure themselves to make sure they are moving in the right direction. The main direction for AAHomecare is being a leader in and representing the industry. If AAHomecare does what it does best, Tom said, this translates into success for the rest of industry.
"If we're winning, the provider is healthy again. If we're winning, the provider is giving the patient good quality access to care and good quality medical equipment," Tom said.
Working  in Washington D.C. with all the higher ups in government agencies can often lead people to forget the small guys that are grinding every day in the HME. As a former provider, Tom said he's thought a lot about these smaller providers and their place in an industry that needs to innovate, and he thinks they have an advantage.
"The small provider has the ability to be nimble, has the ability to refocus and they are a viable part of this industry," Tom said. "I think there's a place for everybody here."
In an industry poised for growth – a recent study  indicated the demand for home medical equipment will increase 8.2 percent ($12.6 BILLION in sales) between now and 2018 – it's the smaller, niche-based providers that are in great position to succeed, said Tom.
"More and more health care is going toward not the number of widget you put out there, but for the health care outcomes, for the patient satisfaction, and for how you can hopefully control some of the higher costs in the health care continuum, such as hospital readmissions," he explained. "It's that smaller provider who has that ability to reach out to those caregivers and other consumers and take a larger piece of the retail niche."
It was at this point that transitioned into a question that many people in the HME industry see as a bit controversial: is AA Homecare as a competitor to VGM?
Tom's answer: no.
While he said both organizations are competing for the same members' dollars, AA Homecare and VGM are two different types of organizations. VGM is a for-profit company whose strengths are providing direct service to their members and using their communication channels to keep the industry informed on changes, he said.
"That's collaboration, and I'm thrilled we can work together like that," Tom said.
Where AAHomecare differs from VGM is in its status as a not-for-profit national association for the HME industry, a responsibility Tom said the organization takes very seriously. A lot goes on in Washington D.C. related to the HME industry, from delicate negotiations to meetings with congressional committees and top officials, Tom said, and it's AA Homecare's status as a national association that gets them in the door with these happenings.
"This is nothing disparaging against VGM; VGM is a terrific partner, a terrific industry advocate and they are a wonderful grass roots machine," Tom said. "The reality is…there are places we can go, conversations we can have that other companies simply can't."
It is this access to a lot of the inner workings in congressional committees and CMS that has given Tom and AAHomecare a great view of the HME industry. Kevin brought up idea that CMS and the government view health care as a commodity because of the way the industry did business in the past. Tom noted that there were a lot of services "given away," but said since health care makes up 16 percent of the country's GDP, CMS and the government see the HME industry as another expense. It's up to AAHomecare and the HME industry to show CMS and Washington D.C. they can provide return on investment.
"A lot of people on [Capitol Hill] want to make us a one measure focus only, which is the price of the good," Tom said. "We've got to get on the other side of that argument and let them know there is a return on the investment for us to provide good quality health care. Let us get to that table and let us have that discussion. The only way we get there is to, little by little, get credibility."
One way they are working on gaining credibility is through an online and social media initiative at SaveMyMedicalSupplies.org. The website, which launched recently, allows patients, family members, caregivers and health care providers to send their congressional representatives an email asking them to help save their medical supplies. In the first three days, Tom said they had 725 emails sent to congressional representatives.
I repeat: 725 emails in three days. That is seriously impressive, people!
Another opportunity is coming up for people in HME to support the industry they are a part of, Tom said. The AAHomecare Legislative Conference, May 7-8, is a chance to "come out and storm [Capitol Hill]."
"I'm all about doing our constitutional right, which is lobby your government," Tom said. "We need to get out there and make our voices heard."
Registration and information about the information can be found on AAHomecare's website.
Perhaps the most pressure-packed question came at the end of the interview, with Kevin asking Tom when the Jets were going to win the Super Bowl again. Tom stuck to his guns as a Jets fan, saying "now is our time" and calling the Jets to win the next Super Bowl. When the Jets bring home the next Super Bowl, just remember HME Voice is where you heard it called first.
I want to thank Tom for coming on to our show and providing us with some truly great stuff. It's never easy agreeing to play with no rules, but Tom, you played the game perfectly. Be sure to check out SaveMyMedicalSupplies.org and the AAHomecare website for info on the AAHomecare Legislative Conference May 7 and 8. Until the next HME Voice, keep grinding and finding ways to thrive!